BrauBeviale 2018
m+f KEG-Technik GmbH & Co. KG
Weusterstrasse 27
46240 Bottrop
Halle 7, Stand #200
info@mfKEGtechnik.de
Mit mehr als 45 Jahren Erfahrung im Bereich KEG- Anlagen sind wir, die m+f KEG Technik GmbH & Co. KG, als dynamischer Partner Ihr Marktbegleiter. Besuchen Sie uns, um Maschinen für Hobbybrauer bis hin zur industriellen Anwendungen bestaunen zu dürfen.
Nach 25 Jahren Treue hat sich die Br. Loscher erneut für die bewährte m+f Qualität entschieden. Wir freuen uns ebenfalls sehr die neue KEG-Anlage der Tradition Brauerei Gampterbräu ausstellen zu dürfen, die unter anderem aus einen MINOMAT A5/5 und einen Außenwascher AW1150-H besteht. Ebenfalls dürfen wir als Neukunden die Brauereien: Dublin Beer Factory, Stadtperle Aurich, Park&Bellheimer und Great Leap(China) im Hause m+f begrüßen.
Sprechen Sie mit unseren Spezialisten, die Ihnen unser Einsteigermodell und meistverkauften Klassiker, den Innenreiniger MONOMAT, am Messestand erläutern werden. Der nächste Wachstumsschritt mit uns ist unser MICROMAT M 2/2-b, mit dem Sie die Möglichkeit haben Ihre Fässer, bei einer Leistung von 25-35 KEG/h, gleichzeitig zu reinigen und zu füllen. Darüber hinaus verfügen wir über eine Vielzahl von verschiedenen vollautomatischen KEG-Linen.
Die erste Wahl für Einweg-Gebinde ist unser MICROMAT M 1/1-F, womit eine mikrobiologisch sichere Abfüllung von Dolium, PETainer, PolyKeg, WorldKeg und KeyKeg garantiert ist.
Lassen Sie sich von unserem  high definition design der Maschinen begeistern und kommen Sie auf ein kühles Bier vorbei, wir freuen uns auf Sie!
BrauBeviale 2018
m+f KEG-Technik GmbH & Co. KG
Weusterstrasse 27
46240 Bottrop
Halle 7, Stand #200
info@mfKEGtechnik.de
With more than 45 years of experience in the field of KEG systems, m + f KEG Technik GmbH & Co. KG, is by your side as your dynamic partner.
Visit us to admire machines for hobby brewers up to industrial applications.
After 25 years of loyalty, Brewery Loscher has decided to choose the proven m + f quality once again. We are very pleased to exhibit a new KEG plant for the Tradition Brewery Gampterbräu, which includes a MINOMAT A5/5 and an external washer AW1150-H. We also welcome our new customers into the m+f family: Dublin Beer Factory, Stadtperle Aurich, Park & Bellheimer and Great Leap(China).
Talk to our specialists  who will show you our entry-level model and best-selling classic, the internal cleaner MONOMAT at the exhibition booth.
The next step in growing with us would be our MICROMAT M 2/2-b, which gives you the opportunity to clean and fill 25-35 KEG/h at the same time. In addition, we have a large number of different full automatic KEG lines.
The first choice for One-Way KEGs is our MICROMAT M 1/1-F, which guarantees a microbiological safe filling of Dolium, PETainer, PolyKeg, WorldKeg and KeyKeg.
Let yourself be inspired by our high definition design of the machines and stop by for a cold beer, we look forward to seeing you!
World Beer Cup in Nashville Tennesse on May 3rd 2018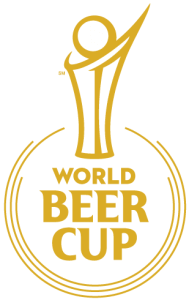 You are invited to participate in the World Beer Cup.
The most prestigious beer competition in the world.
Brewery registration is open through November 14.
Join us for the Olympics of Beer May 3, 2018
In legendary Nashville, Tennessee
Register now at WorldBeerCup.org
Hierbij nodigen wij u uit om deel te nemen aan de World Beer Cup.
De meest prestigieuze beer competitie van de Wereld.
Brouwerijen kunnen zich tot en met 14 november aanmelden.
Doe mee met de Olympische spelen van het Bier op 3 Mei 2018!
In het legendarische Nashville, Tennessee
 Registreer NU op worldBeerCup.org
m+f Top Hygienic Combihead  in Hybrid machines.
Recently we see two developments in the KEG filling market;
1>     Smaller, better to handle KEGs, 30 Liter instead of 50 Liter, which means that the same amount of beer has to be filled in more KEGs. A higher speed or more operating hours as a result.
2>     One way KEGs, where food safety items  can be the small difference in keeping or losing a customer. Underfill or even overfill are new items in the Beer filling industrie.
To find solutions for these two challenges m+f designed the Top Hygienic Combihead.
We can now supply all our full automatic KEG cleaning and filling machines with a food safe and fully automatic Combihead.
This means that returnable KEGs get the normal cleaning and filling cycles. m+f has solutions up to 120 KEGs per hour on 1 filling head.
One Way KEGs with their specific filling procedures can be filled on the same machine.
Changing KEG types takes less than 1 minute per head, and you have to choose the right program in the PLC.
Your return on investment and bringing down risks are optimized.
Get in contact with one of our technical sales advisers to do the calculations.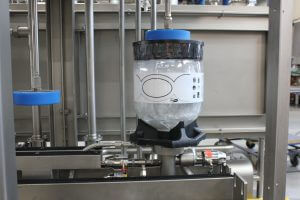 Minomat Hybrid at Püls Brau Weismain – Germany
GP KegCaps ROUND KeyKeg caps
The European specialist in personalized round caps for KEGs has developed the solution for automated capping of KeyKegs.
See the GP KegCaps website for all Details
And ask our m+f specialist for the automated capping of KeyKegs and Stainless steel KEGs.
Modular Erweiterbar
Störtebecker investiert in Fassproduktion
For more details click here to download the PDF