Presentación del MONOMAT
Máquina semiautomática para el lavado interior de barriles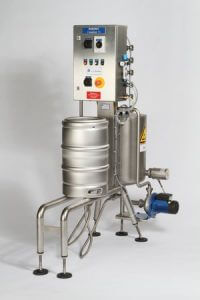 The MONOMAT is used for hygienic cleaning of the inside of returnable KEGs.The infeed of the KEGs and the discharge of the cleaned KEGs is done manually. The internal cleaning is done full automatically by means of soft- and hardware Control. As an option we can supply a mediastation including filters and reducers premounted on a stainless steel Frame. This type of machine is particularly distinguishable for its integrated soft- and hardware that allow fully automatic machine processing as well as the liquid detector that controls the arrival and return of fluids.
MONOMAT es una máquina semiautomática para el lavado interior de barriles tipo KEG, que incluye todos los componentes eléctricos, electrónicos y neumáticos necesarios para el funcionamiento.
Este tipo de máquina se distingue particularmente por su control integrado que permite el procesamiento (del lavado) completamente automático de la máquina, pero también por el detector de líquidos que controla la alimentación y el reflujo de fluidos.
Además, tanto las piezas principales así como el bastidor base, las válvulas y las tuberías están hechos de acero inoxidable, lo que garantiza el respeto de las normas europeas y la calidad de sus productos.
Potencia útil : 10-20 KEG/hora
Estaciones : lavado interior, enjuague y esterilización
Dimensiones :       Largura (L)      : 1.310 mm
               Anchura (B)     : 600 mm
               Altura (H)         : 1.630 mm +/- 50
Voltaje : 230/400V, 50Hz
lavado de barriles
Fácil utilización
Bastidor en acero inoxidable