Introducing DC30 and DC50 Portable Dispensers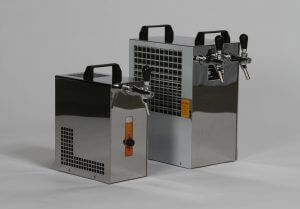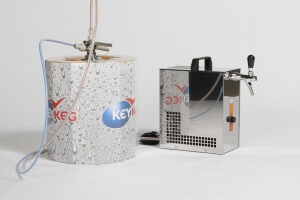 These dispensing systems are suitable for home and professional use, and for both indoor and outdoor use. You can fill them with beer, wine or sparkling wines. 
The portable dispenser solution is a perfect step into the draft beer or wine market.
It has everything to ensure good quality of a fresh drink. It includes for instance air compressor, pressure controller, pressure gauge, cooler and much more. 
The dispensing system is completely made of stainless steel thus ensuring the highest hygienic Standards.
Performance from 0°C to 50°C:   30 l/h  OR  50 l/h
Dispensing tap:     1 Piece  OR  2 pieces
Dimensions (width, height, depth):  160 x 330 x 295  OR  210 x 410 x 325
Weight:      15 kg  OR  25 kg
Voltage:      230V/50Hz, 3-phase
Easy handling
Easy Transport ( 1 or 2 carrying handles)
100 % made of stainless steel
Low noise
There is no need for CO2 bottle anymore
Cooler is ready for use in 5 - 8 minutes