m+f KEG-Technik GmbH & Co. KG
m+f KEG-Technik GmbH & Co. KG is located in Bottrop, Germany,nearby Düsseldorf, established in 1973 and is producer of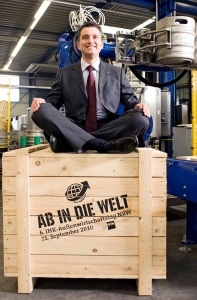 KEG-plants including other peripheral equipment. 100% of the company's share are in private ownership.
m+f KEG-Technik GmbH & Co. KG is a globally operating company with currently more than 2.000 Solutions sold worldwide.
Through its constant readiness for flexibility and innovation the company know-how on KEG-technology in the brewery industry could be broadened very soon by knowledge on filling media like wine, soft drinks, cider, energy drinks, wine mixed- and beer mixed beverages, Prosecco, industrial oils, edible oils, chemicals, etc.
Our product range comprises single machines up to complete plants for cleaning and filling regular KEGs, peripheral equipment and filling machines for one-way-container KEGs.
m+f KEG-Technik GmbH & Co. KG offers its customers a comprehensive service from initial contact to service and spare part supplies. We are in  position to respond to the individual needs and specific requirements of our customers quickly and efficiently.